FLASH SALE | Now 20% extra discount on all SALE items with at least -25% | Only until Sunday ➤
Shop now!
*The full discount is calculated automatically in the shopping cart.
Vests & Gilets
Vests are the ideal garment if you want to stay warm without restricting your freedom of movement. We have a wide range of vests for every outdoor activity: lined and
insulated vests
,
fleece and power stretch vests
,
windproof vests
, down vests, vests for cycling, running, hiking and much more. Looking for a colour to match your clothes? No problem. We have vests in many different colours & designs and from well-known brands in stock: Bergans, Haglöfs, Arcteryx, Jack Wolfskin, Fjällräven and many others. Enjoy your next outdoor adventure!
» Discover different models and materials
Outdoor vests & gilets at eXXpozed
When to wear a vest?
One challenge in outdoor sports are the weather conditions. Athletes must be prepared for rain as well as for cool temperatures or standing heat. Only the right outdoor clothing can help. An outdoor vest is never the wrong choice for this purpose. Vests are sleeveless jackets that offer an ideal blend of wind protection, warmth and ventilation. For sports where the arms are used a lot, such as trail running, climbing or biking, a vest is the ideal companion. The optimal compromise when the full jacket is too warm or the freedom of movement is unnecessarily restricted. The upper body is maximally protected against cold, wind and rain and at the same time offers the arms the necessary freedom of movement. Vests also score with a small pack size. They take up little space in the backpack and can be worn as an additional insulating layer under a hardshell jacket, which is less constricting on the shoulders and arms. In the transitional period in spring and fall, outdoor vests are often seen as a fashionable, warming accessory. Because also in everyday life or in the leisure time this garment can be combined excellently. The sporty and functional vests are comfortable to wear as an all-rounder all year round.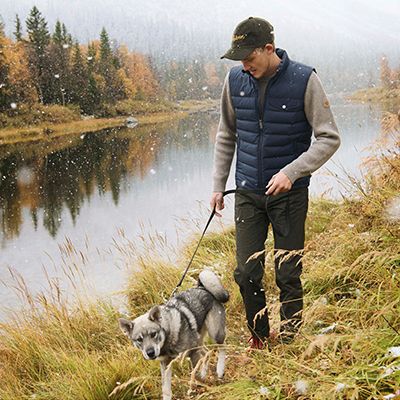 What materials are found in outdoor vests?
The main task of vests is to keep the wearer warm and protected from wind and cold. So that these core competencies can be optimally fulfilled, the different models are limited to individual functions. That is why you can find both insulation vests and wind vests. This means that the type of vest, the material processed in it and the intended use for it are selection criteria to be considered. The necessary thermal performance also plays an important role. Therefore, running vests, cycling vests, cross-country vests and golf vests are each equipped with different features.
Down vests: No matter what's coming up: skiing, winter hiking, snowshoe tours or ski tours. Especially in winter, vests with down or synthetic fiber filling convince with excellent thermal performance. Vests offer the perfect combination of insulation, freedom of movement, wind protection and ventilation. Over a fleece or Primaloft jacket, the down vest provides a warm complement. Especially on cold but dry winter days without snowfall or rain, down vests are hard to recommend. As soon as precipitation falls or moisture in the form of sweat comes into play, a vest with synthetic fiber insulation should rather be chosen. It tolerates moisture during intensive sports activities and bad weather better than vests made of pure natural down. In such a situation, the padded outdoor vest is a real trump card. Hybrid constructions with highly water repellent outer fabrics such as Pertex protect the down even in drizzle and withstand rougher challenges.


Fleece vests: Fleece vests convince with quick drying and breathability. The thermal balance is ensured by the fact that moisture is excellently transported away from the body. The fleece fabric is extremely durable and extremely resistant. Thus, fleece vests are versatile for outdoor activities and can definitely withstand demands of athletes. Compared to thermal vests, fleece vests are designed to be thinner, but they still aim to keep the wearer warm. Especially when hiking, a fleece vest impresses as an additional warming midlayer. But also as an outer layer, this type of vest is perfect to be stylish on the go during a city stroll and to be adequately protected from the upcoming cold during an autumn hike.


Windproof vests: These vests ensure that you are protected from wind and cold at all times. Windproof vests use special membranes in the manufacturing process, which benefits the wearer. Light moisture can also be kept out for a while with such a membrane. In addition, the vests are breathable, so they can be worn without problems when running, hiking and cycling.
Especially for movement-intensive sports outdoor vests are suitable. Due to the sleeveless construction, sufficient air circulation can take place, which is why you can move extensively in an outdoor vest without overheating too quickly. Depending on the respective area of use, you can always find the right vest.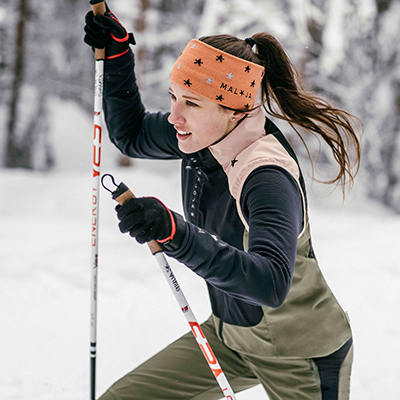 What should I pay attention to when buying an outdoor vest?
When choosing an outdoor vest you should consider not only the right material but also other features. The following criteria play a role in all mountain sports vests:
Body-hugging, close cut to keep the heat on the body


Zipper and stand-up collar should close well, so that wind and cold do not penetrate through


Hoods to protect the neck area. However, it should be noted that such a vest can interfere with the jacket collar as a midlayer and restrict freedom of movement


Side pockets to stow important items, such as money or a mobile phone


Ventilation openings for additional ventilation during movement-intensive activities


Reflective details just for road traffic. Ideal for runners and cyclists in the city
Where can I buy outdoor vests cheap online?
Whether insulation vests, windproof vests or fleece vests. In our eXXpozed outlet you will find a wide selection of outdoor vests for sports use. Enjoy almost daily new offers at top prices. Well-known brands like Fjällräven , Schöffel, Vaude, Maloja und Patagonia present vests in different designs and models. Start your shopping marathon!
Our favorite topics: Cycling vests | Merino vests | Vests for kids | Running vests | Urban vests | Breathable vests