FLASH SALE | Now 20% extra discount on all SALE items with at least -25% | Only until Sunday ➤
Shop now!
*The full discount is calculated automatically in the shopping cart.
Bib Pants
Outdoor trousers are optimized for every application, every season and every sport: From light
running tights
and particularly robust
trekking trousers
to insulated
ski trousers
, outdoor enthusiasts will find a huge selection of trousers for every occasion in our online shop. But in addition to the highly specialized outdoor trousers, we also have great all-rounders on offer with which you are always well dressed outdoors. Take a look and browse through our assortment!
» With the buying guide to the right outdoor pants
Outdoor trousers & shorts at eXXpozed
What must outdoor pants be able to do?
Compared to normal pants, outdoor pants must be one thing above all: robust. No matter what outdoor sport you pursue, whether climbing, biking or ski touring - the pants must be more robust than what you usually wear in your free time. Outdoor pants achieve this through modern functional fabrics that are particularly tear-resistant, but at the same time light and comfortable to wear. In addition, the material should be insensitive to dirt and easy to clean. Here, too, the functional materials do a great job. Modern functional fibers for outdoor clothing are optimized precisely to not accept dirt and are so easy to clean that they can even be washed in the sink or stream when out and about.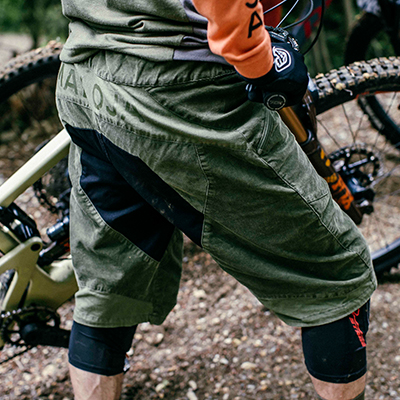 Outdoor pants should also offer significantly more freedom of movement than conventional pants. This starts with somewhat looser-cut hiking pants and ends with very elastic bouldering pants that offer maximum freedom of movement when bouldering. Just buying hiking pants that are too tight can ruin your outdoor experience if they tighten up your thigh with every step, so the freedom of movement aspect should not be underestimated!
Of course, an outdoor pant can only use its functional properties properly if it is adapted to the respective climate or season. Of course, there are great all-round outdoor pants that you can wear almost all year round if it's dry and not too cold. Still, there are functional materials that are specifically optimized for high heat or bone-chilling cold. In addition, it can get too cold very quickly in winter with unlined outdoor pants. Here there are lightly lined pants, windproof softshell pants or classic winter sports pants to be able to be out and about in winter without freezing.
What should I look for when buying outdoor pants?
Outdoor pants for summer or winter?

The first consideration should be: When and where do I mainly want to wear the pants? In other words, at what time of the year and in what environment. The season or climate will determine the type of functional materials the outdoor pants should be made of. In summer pants, for example, the fabric is optimized for moisture transport and breathability. That means the pants help to not sweat so much in the heat due to their airy cut. Arising sweat is wicked away from the body to continue to have a dry feeling. Such pants are sometimes still additionally equipped with UV protection to be protected from sunburn even in very strong sunlight.

Outdoor pants for winter want to achieve the exact opposite: instead of cooling they want to keep the wearer warm. You can achieve this with appropriately tightly woven fabrics, windproof and/or waterproof outer material or additional layers of insulation. When it comes to outdoor pants for winter, the range in terms of thermal performance extends from simple pants made of stronger cotton or synthetic fiber fabric to soft shell pants, which protect against chilling due to their windproof design, to winter sports pants, which are thickly lined to protect against crisp cold and wetness, even when in frequent contact with snow.



Which outdoor trousers for which range of use?

As a next step, you should be clear about the main area of use for which the pants should be. Of course, you do not necessarily need special pants for every sport, but a rough orientation in terms of the main area of use will help to find the best possible pants. If you are looking for a good all-rounder for outdoors, with which you can go for a walk in the forest, cope with the hut tour and also be well equipped on a trip, trekking pants are the ideal purchase. They are durable, lightweight and practical and can be used for a variety of occasions. If it then goes more intensively in the direction of a particular sport, there are great specialized pants here: climbing pants, for example, are much more stretchy than trekking pants and make every movement on the rock or in the climbing gym. Running pants or running tights are tailored precisely to the requirements of running and are therefore cut close to the body, very elastic and warm. Cycling tights are similar to running tights, but have built-in padding that is available to suit every level of performance - from recreational cyclists to competitive athletes. There are also optimized outdoor pants for winter sports. Ski touring pants, for example, differ significantly from classic winter sports pants. They are well insulated, but processed thinner overall to allow more freedom of movement. In addition, they always have a ventilation system, for example, with side zippers. This allows the ski tourer to provide ventilation during sweaty uphill runs. These vents can be closed again on the descent and the pants warm again as usual. In winter sports pants, a further distinction is made between ski pants and snowboard pants. Snowboard pants are somewhat more robustly processed - especially at the knees and buttocks, because snowboarders simply have more frequent contact with the snow.
Where can I buy cheap outdoor pants online?
A large selection of outdoor pants can also be found in our outlet. There we offer daily new reduced pants for all outdoor activities. From all-round trekking pants to ski touring pants or climbing pants, there is something for every outdoor enthusiast. So take a look, maybe there is a great bargain waiting for you!
Our favorite topics: Trekking pants | Fjällräven outdoor trousers | Cycling shorts | Vaude outdoor trousers | Ski pants | Waterproof pants